Handling & engineering project for a UK Manufacturer
INITIAL SITUATION
Handling & Engineering Project for a UK Producer.
Initial situation description
Airpes designed and manufactured 2 beams equipped with vacuum systems composed of 64 suction pads to ensure a correct positioning and grip for a safe transport.
Need to solve
The manufacturer required for this project to improve the handling and transportation of the steel plates assuring safety regulations.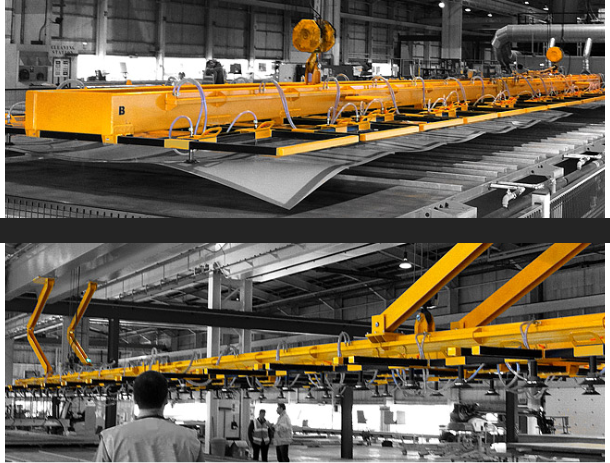 AIRPES SOLUTION
Airpes, as the lifting equipment supplier designed, manufactured and supplied 2 lifting beams equipped with vacuum systems composed of 64 suction pads to ensure correct positioning and grip on the steel plates to safely transport.
The beams also use a sensor based detection protocol to ensure the right position of the steel plates to be transported. Due to the flexibility of the design, the suction pads can be adjusted to follow the shape of the plates.
Extreme difficulty with the handling, transportation, and safety of getting the steel plates (up to 19.5m in length) to the presses. Once the steel plates arrived at the presses, placing them on the presses is extremely time consuming.
RESULTS
GOALS ACHIEVED
Transportation process efficiency increased more than 40% in this phase by now utilizing the suction cups reliability in place of previous method.
Process now under safety regulation requirements.



LATEST POSTS ON THE BLOG
Discover our brand new developments, events, get posted of our activity.
Hook block assembly

Hook block and pulleys are two of the most used systems to multiply the force of a lifting...