2x50t rail transfer cars for wind turbine plate roll in Brazil
INITIAL SITUATION
Design, manufacturing, testing and installation of a system composed by two independent cars with storage support.
Initial situation description
Extremely difficult transportation of the wind towers plate roll (external diameter between 2.000 mm and 4.500 mm) across the production area.
Need to solve
Main problem was that the ferrule needed to be removed from the production unit, at a different height, and transported 60 meters.
Need to solve
To have a lifting beam, able to lift a drive train and able to work:
Inside / outside the factory
Working Temperature range: From -30º C to 45º C
Different configurations: Drive train ± generator, and in both cases ± transportation frame.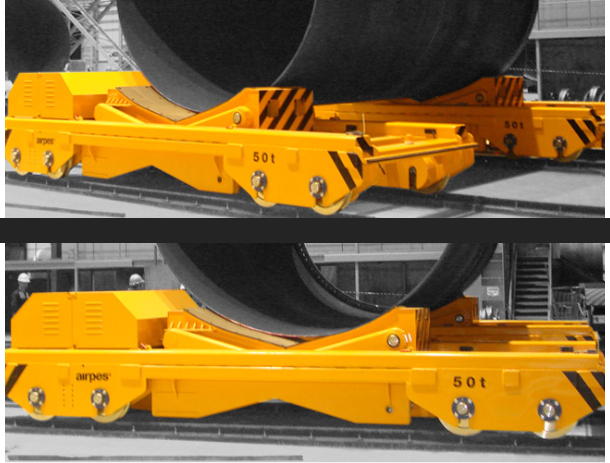 AIRPES SOLUTION
MAGNETIC LIFTING BEAM
The electromagnet beam consists of four brackets assembled on the main body, as well as a bracket assembled on each of the two telescopic beams. Each holder contains two permanent electromagnet modules.
The electromagnets magnetize the steel plates' surface, avoiding possible damages and deformations, allowing a safe transport during the process of lifting and storing the plates.
Telescopic beams increase or decrease the distance between modules. You can select how many modules are magnetized. You can use these different selections depending on the section of the tool to be magnetized and the load to be lifted.
RESULTS
GOALS ACHIEVED
Ferrules Handling with extreme care.
Global safety system (also in the cars) allows doing maneuvers faster and safer..


LATEST POSTS ON THE BLOG
Discover our brand new developments, events, get posted of our activity.