Cranes and lifting equipment are critical in many industries. Key components of any overhead crane include the hoist(s), runway(s), control and safety systems and more.
In addition, there are equipment and parts specific to other types of cranes such as jib cranes and gantry cranes.
In addition, in advanced lifting installations, there may be other components such as smartphone apps to monitor system status and performance, or components specifically designed in the case of customized cranes for hazardous environments.
Find out more about these essential components and equipment in this article.
Key components of any overhead crane
Overhead cranes are essential equipment in industry, but their operation depends on several key components that ensure their efficiency and safety.
Tracks
Tracks or rails are the area along which the hoist (and the crane itself) travels to move over the work area. These can be rails on the floor in the case of gantry cranes, or rails on columns in the case of overhead cranes.
Hoist
Hoists are lifting devices using one or more pulley systems that are essential in overhead cranes. These devices are responsible for lifting heavy loads in a precise and controlled manner.
A hoist combines several pulley systems with which a mechanical advantage is achieved to be able to lift a lot of weight with less mechanical and energetic effort.
Currently all hoists are electronic and have an electric motor. Each hoist and the number of pulleys it carries is designed based on the type of load to be lifted, working environment and use to which the machinery will be put.
Below-the-hook system
The below-the-hook system, on the other hand, is a complementary element to the hoists that are used to hold and secure loads during the lifting process. A multitude of below-the-hook systems can be installed on an overhead crane, including specific designs for a particular job, as we will see later in this article.
Power Systems
The power systems provide the power necessary to operate the overhead crane, including the hoist and rigging and the motors that move the crane along its rails. The power system includes all the cables and electrical installation necessary for the overhead crane to operate smoothly.
Control and safety systems
Control systems are all those impact sensors, limiters, load sensors, etc., designed to avoid exceeding the recommended weight limits, to avoid accidents and to control the crane's behavior for safe operation.
The control systems allow the operator to manage and supervise the crane functions safely and efficiently and without exceeding the working limits of the installation.
Specific below-the-hook equipment that you can find on an overhead crane
Specific lifting equipment plays a crucial role in a variety of industries, offering specialized solutions for loading and lifting needs. Below are several notable types of equipment that, for example, we install at Crosby Airpes.
Lifting Beams
Lifting beams are steel beams specifically designed to lift an object in particular. Their design may seem very simple, but behind each of them there is a great deal of engineering work.
In the event of having to deal with loads of different shapes and/or with the center of gravity off-center of the object, an extendible or adjustable lifting beam can be designed to compensate for the irregular shape and weight of the object.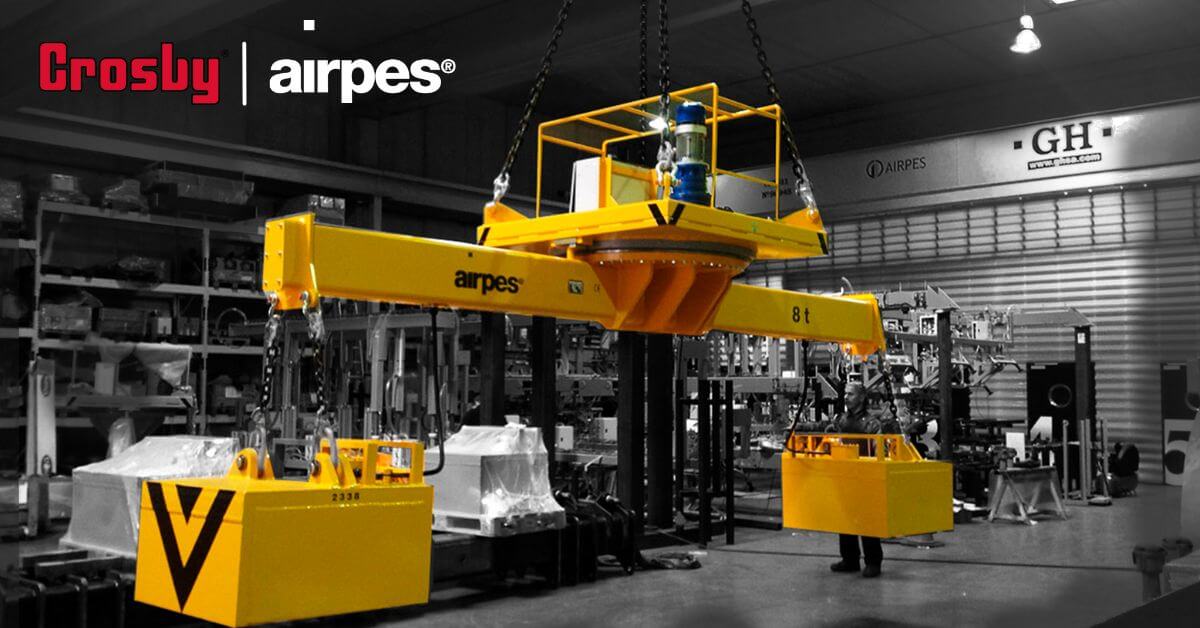 C-Hooks
C-hooks are used to lift and move sheet metal coils or industrial paper coils within a factory or plant.
Lifting Tongs
Various types of lifting tongs can be installed on an overhead crane to lift objects of all kinds, such as coil lifting tongs, scissor lifting tongs or rock lifting tongs. Lifting tongs are one of the most demanded lifting applications in our portfolio.
Vacuum lifters
A vacuum lifter is a device that lifts and moves an object by means of suction with hydraulic suction cups. This system is perfect for materials made of large plates and light weight, such as thin metal plates, wooden boardsor glass plates.
Rotators
A rotator lifting beam is nothing more than a lifting beam engineered and designed to lift a load into the air and then rotate it to another position relative to the ground.
Electromagnets
Electromagnets are a type of solution designed to lift metal objects of moderate weight, such as sheet metal or wire mesh.
Weighing hooks
A weighing hook is a type of equipment that allows an object or material to be lifted while indicating its weight.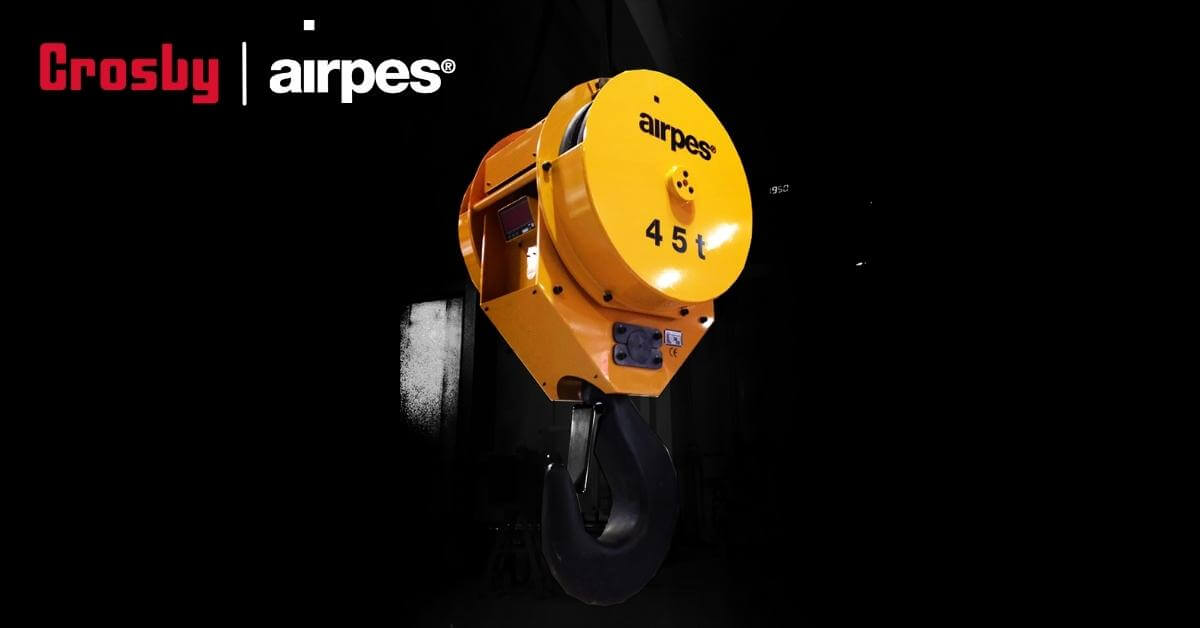 Security systems you can find on a overhead crane
Modern overhead cranes have multitude of components designed to improve security and control of the machinery.
Electronic Limiters
Electronic limiters monitor and record data concerning the various lifting and weighing systems. They gather information from different elements of the elevation process.
Remote control systems
Remote crane monitoring and control is an advanced technology that allows you to remotely monitor and control the performance and status of your company's or plant's cranes. This innovative solution uses sensor and communication systems to collect real-time data, providing detailed information on crane performance without the need for physical inspection.
We design the crane you need (or improve the components of one you already have)
Crosby Airpes specializes in lifting systems at all levels. We can design the crane or rigging system you need for your crane, as well as upgrade and modernize an installation you already have in place in your company.
Crane modernization: upgrade the components of your lifting equipment
Crane modernization can be a strategy to optimize and modernize the performance and efficiency of old lifting equipment. Through improvements and upgrades at the rigging or system level, it is possible to maximize its load capacity, optimize its operation and extend its service life.
Some of the common improvements include
the installation of more advanced control systems, which allow for more precise and safer crane operation
additional safety devices, such as overload detection systems and motion limiters can also be implemented, ensuring greater protection for both operators and the load
the upgrade of key components, such as hoists and rigging, which can offer increased load capacity and faster lifting speeds
replacing obsolete power systems with more efficient solutions can reduce energy consumption and operating costs
Crane modernization can also involve structural improvements, such as repairing or replacing overused parts, reinforcing the structure to support higher load capacity, or even implementing communication and remote control technologies to facilitate operation and monitoring from a centralized location.
Lifting equipment consulting available
When it comes to lifting equipment, having the right advice can make all the difference. Crosby Airpes lifting equipment consulting offers a specialized service to help companies make informed decisions and optimize their specific load handling operations.
Which type of installation is right for me?
Which system offers the least wear and tear and the longest life?
Which systems to install for use in different scenarios?
Our team of experts will assess your specific needs and provide you with customized recommendations to maximize the efficiency and safety of your lifting equipment and cranes.
Whether it's upgrading your existing cranes, adding new equipment or components or improving your maintenance practices, our consulting will guide you every step of the way:
Lifting needs assessment: We analyze your requirements and advise you on the most suitable lifting equipment for your industry and specific applications.
Lifting system design: We work with you to design customized solutions that optimize the performance of your cranes and lifting equipment.
Safety improvement: We identify areas for improvement in your safety practices and provide recommendations to ensure a safe working environment while cranes are in operation.
Performance optimization: We review your current operations and provide strategies to maximize the productivity and efficiency of your lifting equipment.
Our industry knowledge and experience allow us to offer effective solutions tailored to your specific needs. Our consulting service is also complemented with the service of Certification of lifting equipment and the possibility of testing cranes on a test bench.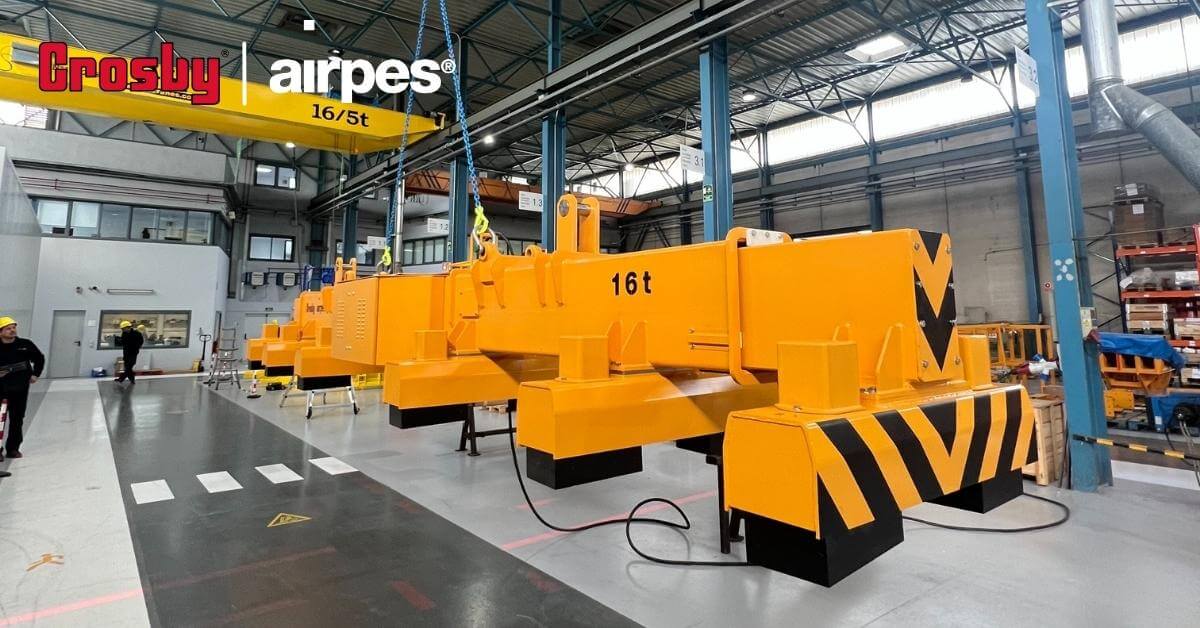 We are your overhead crane component supplier
As you can see, although to the untrained eye it may seem that this is simple gear, behind a lifting equipment that works well even after tens of thousands of hours of accumulated work there is a very important previous work.
Did you know the different parts of a crane and everything you can do with it? Crosby Airpes can help you with any part of your crane.
If you have any questions, we are at your disposal.