Test your lifting equipment with Airpes' Test Bench. Test bench is one of our services that will definitely improve how you work for the better. Simulate a real operation and find out all about how your equipment will perform in that environment.
Bench testing is a service we offer so that you can test your lifting equipment with all the security, expertise and confidence that we provide at Airpes. Test your equipment and do it in a safe environment to ensure that everything is working at its best.
A very precise test bench
The weighing indication system is approved by a certifying company with an accuracy of +/- 0,5 %. This is a safe, efficient and practical test of your lifting equipment before putting it to work on a real project. We offer a safe environment where you can explore the possibilities of your equipment and turn them into opportunities to grow and work efficiently.
FILL OUT THE FORM AND WE'LL GET BACK SOON!
REQUEST A QUOTE
The benefits of a lifting test bench
SAVE TIME
You will get immediate feedback and be able to detect the strengths and limits of your lifting equipment before you start using it on a real project.
COLLECT DATA
Collect all the information you need about the usage of your lifting system, so you can make informed decisions and prepare for your next lifting project.
WORK AND HAVE A MEETING WHILE THE TEST ARE BEING CARRIED OUT
In addition to the test, Airpes offers our guest offices fully equipped for meetings and work while the lifting equipment is being tested.
SAVE MONEY
You will know all the details about your equipment before you use it, avoiding unnecessary maintenance or repair costs.
LIFTING TEST UP TO 1000T
Tests can be performed with lifting equipment up to 1,000t, so a wide range of lifting systems can be tested. We assure maximum safety and comfort while testing and you will be able to check on site the performance of your equipment
SAFE TESTING FOLLOWING INTERNATIONAL REGULARIONS
At Airpes, safety is a priority, so we conduct all our tests according to the current legislation, Directive 206/42 of the European Parliament referring to machines as well as the US ASME B30.20-2010.
SAFETY CONDITIONS
We can provide you with the assurance that your lifting equipment will be tested under the best and most appropriate conditions available, in a completely safe environment.
SAFE AND EASY LIFTING TESTS
We have new facilities, where all the tests will be done. You will get to know the strengths of your equipment as well as its weaknesses so you can be informed as to how best to utilize your equipment with maximum safety.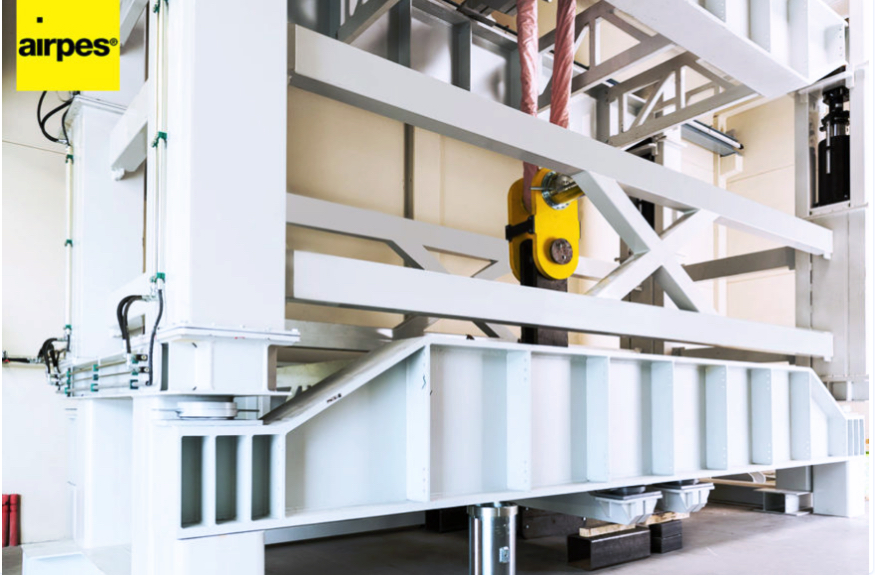 THE USE OF AIRPE'S TEST BENCH ALLOWS YOU TO:
Give a first approach to the real use
The test bench marks a first approach to the real use of your lifting equipment. It simulates a real operation, so you will see your lifting equipment's reaction.
Provide a context to your system
The best way to make sure that your project starts well is making a test. Put your lifting or weighing equipment to the test and start a project knowing that everything works.
Show you the final test
It is the ultimate proof that your job was well done and this is imperative in weighing, lifting and handling sectors
A test bench designed for lifting professionals
Our test bench is designed for any company that works with lifting equipment. It's not easy to start a big project without a proper test, and we offer you the chance to test the limits and parameters of your equipment.
You can setup your test with our software, allowing you to decide the load to be lifted and the time of use. You will get complete information regarding the results of the testing.
The location of the test bench allows us to carry on with testing regardless of the weather outside. The warehouse location is dedicated exclusively to the test bench and includes a 12.5t crane
If you want more information on the Airpes' testing workbench, please contact us.
We will advise you and offer all our knowledge to carry out the safest and most efficient test to your handling, weighing or lifting equipment.
LATEST POSTS ON THE BLOG
Discover our brand new developments, events, get posted of our activity.