When choosing the most suitable handling material for a given in industrial task, you may have doubts. In this post we are going to treat the different types of handling material to be able to solve your doubts.
What is industrial material handling equipment?
Industrial material handling equipment covers a wide range of tools, storage units, apparatus and accessories used to transport, store, control, list and protect products at any stage of manufacture, distribution, consumption or disposal.
Crosby Airpes has a wide range of lifting products with which to efficiently and functionally carry out any of these actions.
Types of material handling equipment
The importance of material handling equipment is well known in the industrial field. In Crosby Airpes we have a wide range of material handling equipment lifting devices. Among the most prominent are:
Lifting beams
A lifting beam is a solid piece of metal beam designed to be attached to a crane hoist by a rigging consisting of a chain or lifting wire. It allows to lift objects whose weight is not equilibrated or objects that that doesn't allow to be lifted with a standard lifter. Crosby Airpes offers many types of lifting beam designs, some of them are: fixed beams, H beams, moveable centre of gravity beams, hydraulic powered beams or spreader beams.
C-hooks
C-hooks are designed to lift and move wire or rope coils in a safe efficient and quick way. Our c-hooks are designed to meet every customer's specific requirements for load configuration, weight, lifting area and headroom available. With the C Type crane hook you will be able to move any coiled wire with your existing overhead crane, no matter which type of crane it is.
Sheet lifters
The sheet lifter provides fast and smooth leg adjustment and allows for additional force to be applied to the sides of the loads. It helps you loading sheets no matter its size. The plate lifter is a heavy duty handling system designed to lift the load and handle it safely and efficiently. It grabs a bundle of plates of any length in an easy way.
Scissor lifting tongs
Scissor lifting tongs are manufactured and designed for lifting any type of pipe or beam of any material: Steel, concrete… wherever you need it, in a safe and efficient way. Crosby Airpes can adapt the machine to the customer´s   current crane and hoist installation and capacity.
Coil lifting tongs
Coil lifting tongs can be custom designed according to the needs of the client, type of use, material of the roll, type of lifting beams or hoist, lifting requirements or other lifting devices installed. Coil grab is the most efficient and safe way to handle big coils.
Mesh nippers
Mesh nippers are made in the basis to ensure a perfect and safe load and to save time in the operation of load and unload the trucks. This tool provides to the user a safe way to manipulate the loads with only one operator, and increase the productivity of the warehouse.
Tunnel concrete segment tongs
The tunnel concrete segment tong consists in a special tong to lift and move concrete segments. Crosby Airpes designed and manufactured the tunnel concrete segment tong in all sizes and capacities according the customer's request, the tongs have sensors on the legs and in the laterals to detect the segments. When all sensors are activated the machine operator can lift the load in a secure way.
Lifting electro magnets
The lifting electro magnet is an easy way to lift any material made out of metal, that can be attracted to a magnetic field using a magnet. Electro magnets are  also designed to work in extreme conditions. And this devices are also designed to work in extreme conditions.
Load rotators
The load rotator consist in an electric powered rotator designed to turn all kinds of materials. It can be adapted to all type of hoists and cranes. Crosby Airpes can produce a different types of load rotators, adequate to the customer's demand. A load rotator can be adapted for the rotation of different elements and parts. We As well the design can be adapted to multiple uses and weights.  The material being turned will move 360 degree and can be stopped in any position. The harnesses used with the device will turn the loads in a slow and efficient way.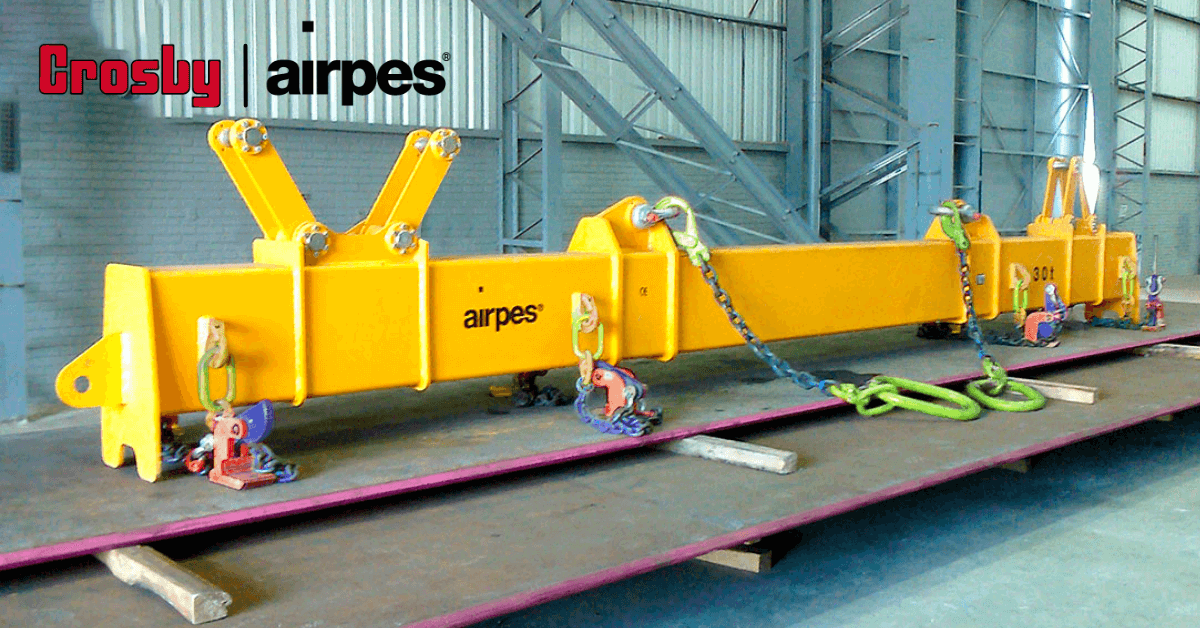 6 factors that affect the selection of handling material equipment
Type of material
The size of the material, its shape, weight, delicacy, nature (solid, liquid, gas) and the possibility of damage during handling, etc. must be considered.
Building/plant layout
The width of the corridors, the unevenness of the floor, the doors, the height of the ceiling, the resistance of the floor and walls, the columns and pillars, etc., all have a great influence on the choice of material handling equipment.
Type of machinery
The different machines have different performances per unit of time. The material handling equipment must be able to handle the maximum performance.
Material flow pattern
A vertical flow pattern will require elevators, conveyors, pipes, etc., while the horizontal flow pattern will require trucks, bridge cranes, conveyors, etc.
Type of production
The type of production greatly affects the selection of material handling equipment. Conveyors are best suited for mass production on fixed routes and motorized trucks for batch production.
Maintenance level
The difficulty and frequency of maintenance and repair of the handling equipment can affect the decision between purchase one equipment or another.
Trust Crosby Airpes when looking for your material handling equipment supplier
Crosby Airpes, is a company dedicated to the manufacture and marketing of weighing systems and handling equipment, backed by more than 25 years of experience.
Crosby Airpes designs and manufactures high quality weighing systems and handling equipment for measuring and controlling the lifting of loads. All products strictly comply with European quality standards.