LIFTING BEAM
September 22, 2020
Airpes offers many types of lifting beam designs, some of them are fixed beams, H beams, the moveable center of gravity beams, hydraulic-powered beams, spreader beams with a levelling system or motorized rotating beams. We will describe each model of the most common types of lifting beam below.
A lifting beam is one of the most useful and ideal devices if you know exactly which is the kind of load you want to handle. Airpes' lifting beams can adapt themselves to every customer's needs in terms of capacity, available accessories hoists (and a number of hoists of the crane) design, and safety standards. They offer excellent results, long life span and they are a low maintenance factor rigging gear. A lifting beam designed ex professo for your company and a specific task will improve the handling of your loads.
Airpes has specialized in supplying all kind of lifting beams, from the very simple 1,5 tonnes capacity spreader beam attached for a single hook to the most complex heavy-duty lifting spreader that can handle up to 490 tonnes. Every model of the beam can be adapted to any kind of overhead crane, type of load, hook, and be adapted to the needs of the customer. Airpes® is your handling equipment supplier focused on lifting beams.
Lifting Beam Features
Our solutions include not only spreader beams and adjustable lifting beams but a wide range of possibilities: check out here a complete overview of our handling equipment range. And because every customer is different, we have also deep expertise in developing taylor-made solutions.
What is a lifting beam?
A lifting beam (depending on the connecting points will be a spreader beam) at it most simple design is a solid piece of metal beam designed to be attached to a crane hoist by a rigging consisting of a chain or lifting wire. It allows lifting objects whose weight is not equilibrated or objects that have a singular design that doesn't allow to be lifted with a standard lifter. Basically lifting beams and spreader beams equilibrate the load to perform a safe lift. The material of construction is always metal in different alloys.
Different kinds of beams for material handling
There are different lifting beams designs and each one has different uses and advantages. In Airpes we design many types of custom lifting beams and we study every single part of the structure: sling, hoist, shape… Let's check the designs out.
Lifting Beams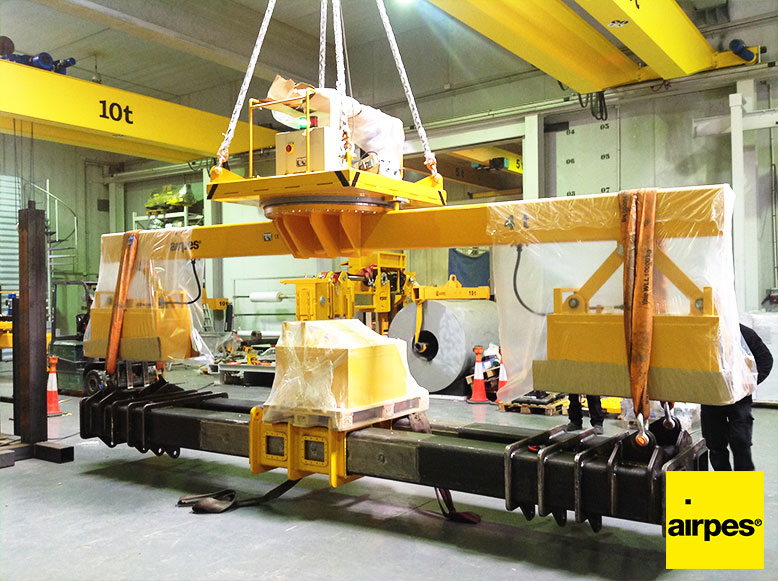 A lifting beam has the simplest and most standard design: is a slab of metal with a single bail in the center, from where the slings and hoists of the cranes will be hanging the beam with its load. Usually, the attaching point will be in the center but we can design the lifting beam to become adjustable so the operators can move the center of gravity of the beam. The beam can be used for lifting objects or hanging lifting devices from it (electromagnets, slab tongs…).
Pros:
Can work in low headroom spaces
Cons:
Bending forces act vertically so it offers less resistance
For the previous reason, lifting beams have to be built using more material
Spreader beams

A spreader beam in the other hand has two bails, one on each side of the beam, attached to the hoist, or hook of the crane. Thanks to this design with more than a sling the spreader beam transforms the bending forces you have on a lifting beam in compression forces along the bar. A spreader beam is more stable than a lifting beam and if space has enough headroom it is always recommended to install a spreader beam. As well we can make a design of an adjustable spreader beam like the one you see on the picture above.
Pros:
Allows to lift heavier loads with a smaller bar
Cons:
It needs space for the rigging (with a chain, wire rope, or slings) so it can't be installed in low headroom spaces
H Lifting beams

The H lifting beam is designed for many uses. The H lifting beams offer more stabilization and distribution of the loads along with the object. As well as H lifting beams work really well with loads that have an extreme length/width ratio. H lifting beams for example are perfect for the lift of an industrial basket (in siderurgical industry). The rigging of the H lifting beam can be designed in different ways according to customer needs.
Pros:
Distributes the forces in 4 support points, offering more stability.
Cons:
It is more complex to design compared to the other types of beams.
Still not sure about what kind of lifting beam you need? Contact us and discover the most outstanding products, the best customer service, and the most competitive prices.
All the airpes® products fulfill the most demanding regulations of security and quality of the European Union, also having the processes of design, manufacture, and marketing certified in UNEEN ISO 9001: 2000 by the prestigious German organization TÜV.
Benefits
Airpes offers all type of lifting beams with many options in the design, like:
Fixed lifting beams
Adjustable lifting beams
Spreader beams
H lifting beams
Moveable center of gravity lifting beams
Hydraulic powered lifting beams
Lifting beams with a leveling system
Motorized rotating lifting beams.
Automatic control and working systems can be installed in all the cranes for offering you more tools and resources when operating your lifting beam.
Sectors
Airpes manufactures special lifting beams for all kind of different applications and services sectors like:
Renewable energy sources
Wind turbines
Nacelle's
Eolic rotors
Windmill blades
Steel mills
Paper mills
Aeronautics and aviation sectors
Aerospatial industry
Solar energy industry (thermal solar plants)