COIL LIFTING TONGS
September 22, 2020

Check out our vertical coil tongs, designed by our engineers to meet every customers' requests on mechanical features, electronic components, and the highest safety standards. Lifting tongs is one of the most demanded lifting applications in our portfolio.
Our double-arm coil handling lifter can be custom designed according to your needs, type of use, the material of the roll, type of lifting beams or hoist, lifting requirements or other lifting devices installed. As well it can be redesigned to be a pallet lifter or having the ability of motorized rotation. With these optional designs, you can be sure you will have exactly the coil lifter you are looking for.
Every Airpes' coil grab is thought to be the most efficient and safe way to handle your big coils. We can design a material handling solution that fits your needs, adapting the coil lifter to your situation.
Features Coil Lifting Tongs
Coil lifting tongs at your request
Airpes designs and manufactures heavy-duty coil lifting tongs for the most demanding customers all over the world. Our Airpes engineers can make a custom design and adapt every single vertical coil lifter to meet our customers' requests. We will use the information they provide regarding mechanical features, electronic components, crane hook and hoist capacities, type of material to lift, available headroom, width and position, and as always meeting the highest of safety standards.
Airpes' coil lifting tongs features
Every coils lifter built in Airpes is a certificated design according to safety Directive 2006/42/CE (that replaced Directive 98/37/CE).
We build every coil grab using laser cut plates, in S355 J2+N steel, steel tubes quality S355J2H hot rolled according EN-10210.
We can incorporate additional electronic components and applications, like special hook configuration, frequency drive, PLC's, Wi-Fi, GSM modem for communication among other components, applications and with Airpes technicians, from leading easy-to-find brands to spare parts all over the world.
Integration of coil's optional rotating system in the vertical axis for motorized coil rotation of the roll while you grab it.
Weighing Capacity Systems to retrieve information of weight on every lift.
Standard equipment: Frequency variator for each engine and a programmable PLC with a software that allows complete control of the hook.
Special lighting system on board, to indicate progress and status from the coil tong
Benefits Coil Lifting Tongs
Our "eye horizontal" coil lifters also include the following options
Rotating head/hook capacity
Optional Weighing System
Load transmission to the crane, to a display, or to a computer
Automatic working system
The lifter can be operated remotely
Wi-Fi/Radio/Provirus
Foldable leg
Custom design
Additional building materials for protection or high-temperature capacities
"Eye-horizontal" rotation of the coils while moving them
Sectors
Coil lifters and their sectors
A coil lifter works perfectly in a wide variety of coil handling sectors like steel industry, transportation, automobile or appliance industries, rolled plate coils manufacturers and every coil handling company used to work with rolls.
Our solution includes a wide range of possibilities: you can access to a complete overview of our handling equipment range. And, of course, we have deep expertise developing taylor made solutions.
Request a quote for your coil lifting tong
Why don't you request a quote? Send us an email if you are interested in having your telescopic coil lifter model. Discover our outstanding products, the best customer service and a low price. Airpes is a lifting solutions leader with partners all over the world.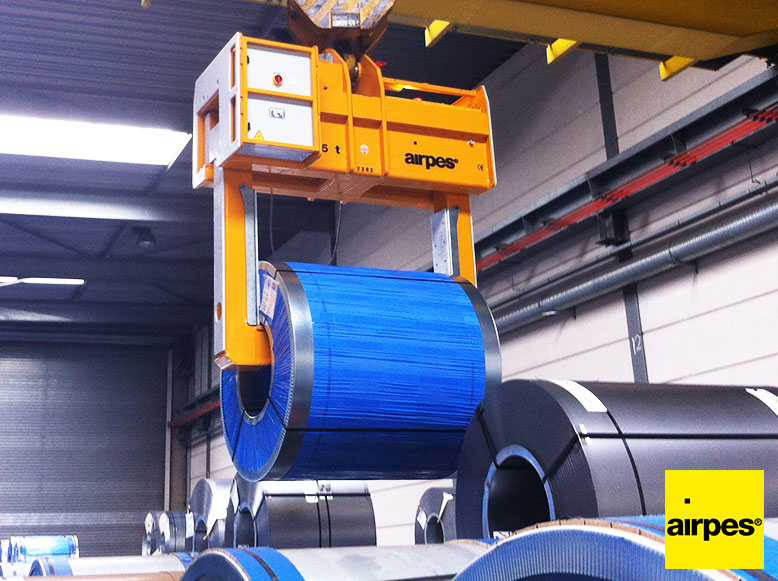 Related applications and products
If you are checking our heavy duty vertical coil lifters you may also find interesting these other lifting devices very similar or complementary.