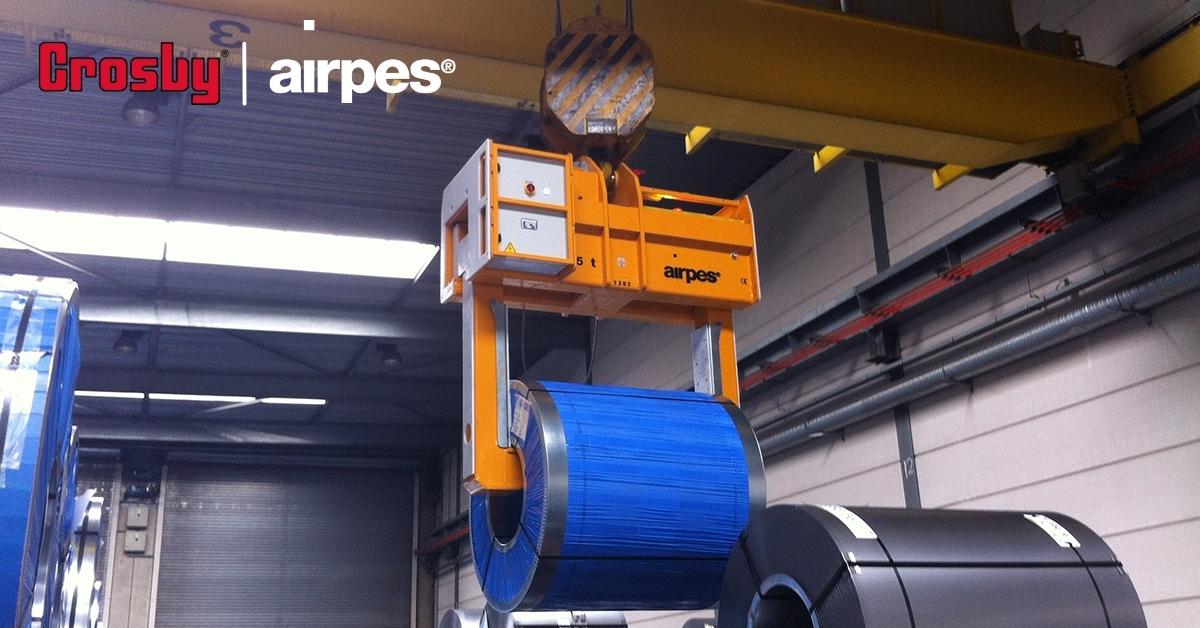 When choosing a handling device to move heavy coils, there are some key aspects to consider:
The width and weight of the coils.
The characteristics of the storage space.
The type of handling: lifting or moving on a horizontal plane.
Crosby Airpes has a solution for every type of situation, and below, we explain which coil handling device will work best in each case.
Moving coils on a horizontal surface
When moving the coils through the storage space, one option is to move them on transfer carts.
Transfer carts have many advantages for handling any coil: they cause low noise levels and are safe and easy to operate and maintain.
There are two types of transfer carts with which you can move all kinds of coils, such as metal coils, paper coils, etc.
Steerable transfer carts: this type of transfer cart can move freely.
Transfer cart on a rail: they can move in a single direction.
Both of them can have a JIB to lift the materials without needing overhead cranes.
For handling coils, the most common option is a battery-powered transfer cart with four-wheel drive, but, in Crosby Airpes, we can adapt the design to almost any use, like for special ATEX applications. Transfer carts can also be designed considering de inclination degree of the floor in the case that the warehouse has ramps.
We can also adjust the operation parameters, components, and vehicle options to your custom needs under request. Look at this on-demand solution: a transfer cart for 60 tones coils.
Coil lifting devices
The use of one type of lifting device for the coils will be determined mainly by the maneuverability offered by the storage space and the width of the coils. There are two basic types of coil handling devices for lifting them: C-Hook-style lifters and two-arm coil grabs.
C-Hooks-style lifters for coils
A C-Hook lifter is easy to maneuver and needs less maintenance since there are no moving parts.
For comfortable control, the aisles in the warehouse where it is used must be as wide as the lift arm, plus a few inches of clearance. It must also ensure enough space for the C-Hook to move in all necessary directions without being obstructed.
Crosby Airpes' C-Hook-style lifters are safe, efficient, and quick devices for handling coils. They are designed to meet every customer's load configuration, weight, lifting area, and headroom requirements. Also, you can transform your C-Hook on a scale with our weighing systems.
Find out more about our C-Hooks for lifting metal coils.

Two-arm coil grab: coil lifting tongs
A coil lifting tong is one of the most efficient ways to handle coils of different sizes, thanks to its adjustable arms. They are perfect for increasing the number of coils you can store in designated floor space. The only space requirement is a little margin for each arm of the grab on each side of the coil.
Their designs are scalable in lifting capacity. The only limit is the crane's lifting capacity, where the tong will be installed. Another factor to consider is the headroom when the grab has to work in indoor spaces.
Another advantage of the lifting tongs is that being a relatively simple mechanism, they require low maintenance and can work in environments with dust, humidity, and/or high temperatures without a problem.
Our engineers design our vertical coil tongs to meet every customer's requests on mechanical features, electronic components, and the highest safety standards.
Don't miss out on what's behind a lifting tong design.
A broad experience designing and manufacturing coil handling devices
Crosby Airpes has twenty years of experience building different types of coil handling devices. With our solutions, there won't be a wire coil or a steel coil you can't move. Contact us for more information.
C-HOOK

Get to know our C-hook, designed to meet every customer's specific requirements for load configuration, weight, lifting area and headroom.…
TRANSFER CART

At Airpes we design our own high-tech transfer carts for any kind of industrial facilities. We can manufacture every transfer…

TRANSFER CART

September 22, 2020
COIL LIFTING TONGS

Check out our vertical coil tongs, designed by our engineers to meet every customers' requests on mechanical features, electronic components,…

COIL LIFTING TONGS

September 22, 2020