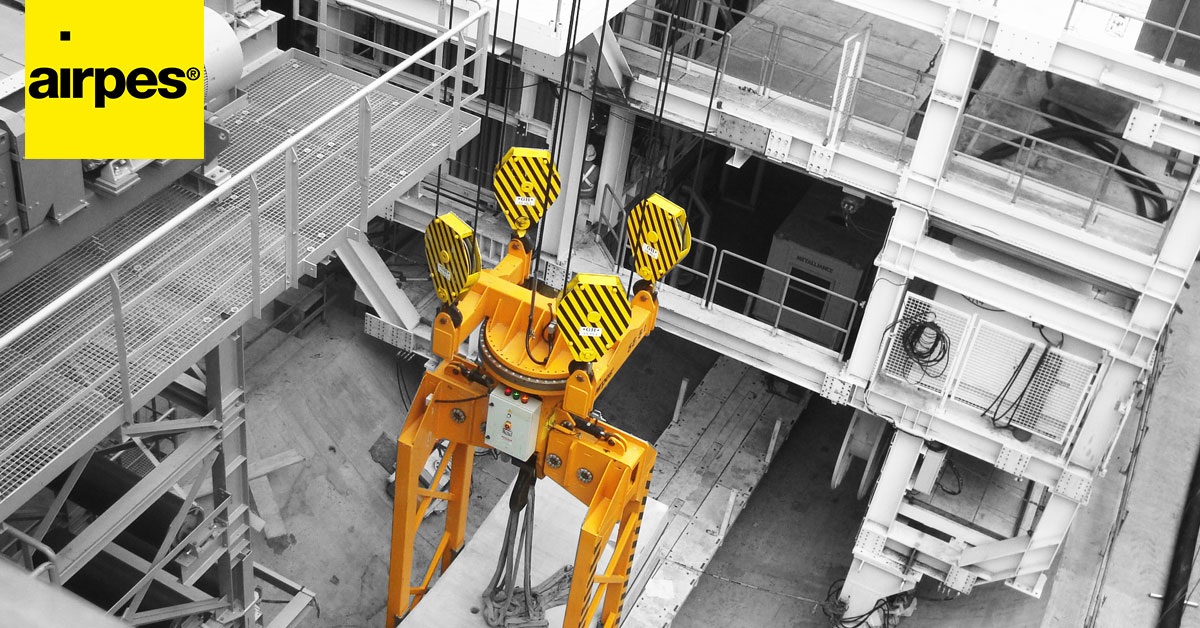 Find the best overhead cranes equipment at Airpes
At Airpes we are experts in weighing, handling and lifting. We work hard to make your job easier, designing, manufacturing and testing the equipment that you need for your overhead cranes.
Overhead cranes are a fast and easy way to transport and move loads in different sectors; in fact they are one of the most versatile and used lifting equipments because they can work inside a room, next to the ceiling, and take up barely any space.
In this article we will tell you which overhead crane equipment fits your company best according to your specific needs to lift loads.
You may also be interested in: 6 overhead crane safety tips to protect your workers
One of our top products is the Eagle, an electronic limiter that is considered the brain of your industrial crane and has been designed according to the European regulation of general safety of machines.
Which are the benefits of Eagle, our electronic limiter?
Eagle is a protection system that ensures that the ratio between load and lifting equipment capacity is adequate. It has 3 main functions:
It registers data and information about all the manoeuvres of the cart, hook and bridge in a totally independent way thanks to the black box.
It monitors everything that happens, including weighing, overloads and the load spectrum and is open to be adapted to new applications.
Provides safety control when cranes are working in tandem mode.
Eagle, our latest electronic limiter for your industrial crane
Manage your overhead crane with Airpes and Autec radio control equipment
In Airpes we have a long experience in the application of industrial remote control systems.
Since 2003 we are the official distributors of Autec, known mainly for the innovation, robustness and reliability of wireless controls with safety functions to lift. We offer you the best wireless control systems designed for safety applications in overhead cranes, elevating work platforms, construction and maintenance and many more.
Handling and weighing systems for overhead cranes
We are your lifting equipment supplier and we are committed to providing you the best handling and weighing systems for your overhead cranes. In addition, at Airpes we focus 100% on the customer. We take into account your needs and provide you with tailor-made solutions to perform the job efficiently.
Some of the overhead crane systems that we have:
Monitoring and protection of the bridges of your overhead cranes. One of our latest load limiters is the Eagle system, which has an overload protector, safety control, anti-collision system and and also connects to the Black Box app, which gives you all the information.
You can also capture weighing data of the overhead cranes through load cells. These turn a force into an electrical signal and inform you about the load's weight in different conditions.
Airpes' weighing hooks are hanging from the crane and are designed to carry out different functions such as controlling the entry and exit of products, as well as checking the available stock and the storage.
We design and produce special lifting beams for different applications and sectors such as wind energy (turbines, nacelle, rotors, blades…), solar (thermoelectric solar plants) and industrial applications (steelworks, paper mills, aeronautics…)
One of the most efficient ways to handle coils of different sizes thanks to its adaptable clamps. Our engineers can design and adapt your coil tong regarding mechanical features or electronic components.
We design our own permanent electromagnet with a modular system that allows to increase or decrease the active modules according to the needs of each client. A system based on reliability, high performance and flexibility.
Find the best equipment for your industrial cranes
We work to offer you first quality products for the measurement and control of lifting loads.
Do not hesitate: request a quote and we will assist you and help you find the best equipment for your overhead crane.