In Airpes we are specialists in the installation of material handling equipment in any type of crane.
We adapt exactly to the lifting capacities of each crane in order to design the most suitable lifting system for the work that needs to be done.
There are several types of mechanisms and equipment for handling loads and objects and in this article we will briefly describe the ones that we design and install at Airpes.
At Airpes we are specialists in improving the performance, efficiency and functions of any crane. We can design different lifting systems for the same crane, some of them even interchangeable. In this way the same crane will be able to lift material of different origin, nature or size just by changing the system used.
We install remote control systems
We also have extensive experience in remote control of industrial cranes and lifting systems using AUTEC instrumentation (we are the only official AUTEC distributors in Spain), which allows remote control of industrial machines of any type. With lifting equipment adapted to the needs of the work to be carried out and a remote control system that allows you to work faster and more efficiently, you will turn your crane into an agile, tireless, safe and efficient working machine.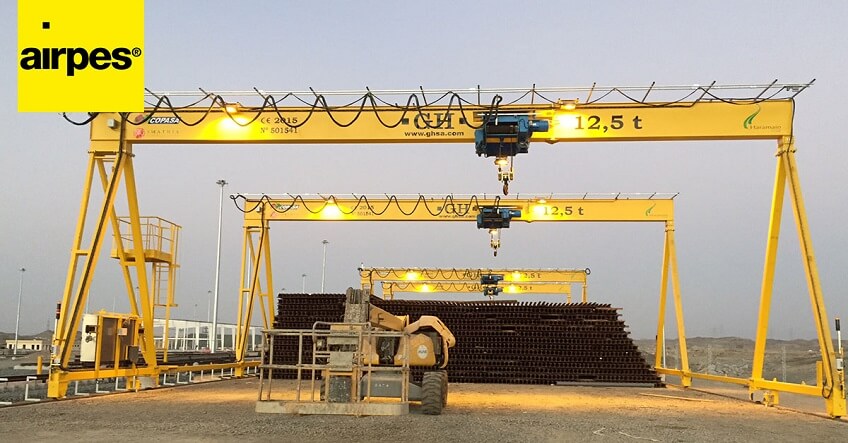 We ourselves design, test, and install various types of lifting systems that can be adapted to virtually any type of gantry crane or bridge crane the customer already has in operation. Some examples are as following.
C Hook
Perfect for the handling of coiled products (cables, sheets…) and pipes. We adapt the C Hook design to the work required.
Lifting beams
Although the design of a lifting beam seems very simple there is a great deal of engineering behind each of them. Especially when it comes to hydraulically extendable beams, with levelling system, with mobile centre of gravity… The possibilities are endless. We have designed lifting beams with a lifting capacity of up to 500 tonnes.
Load rotators
Load rotators are necessary for repositioning and moving objects of large volume and size, especially during the manufacturing process. For example, load rotators are very common in:
Aeronautical industry (during the manufacture of the different parts of an aircraft)
Naval industry (to reorient the large parts or engines of a ship during its assembly)
Wind industry (during the manufacturing process of wind generators).