In Airpes we are experts engineers in designing and engineering scissor lifting tongs in any size and capacity. We adapat every scissor lifting tong to your company's need, the crane or lifting equipment you already have and to the characteristics of your warehouse or environment.
---
102 Ton Capacity Scissor Lifting Tong
Airpes has designed, built, and installed recently a scissor lifting tong for a company based in the UK. In Airpes we are experts in the design and construction of taylor-made lifting systems, so this machine can perform exactly the task demanded by the client.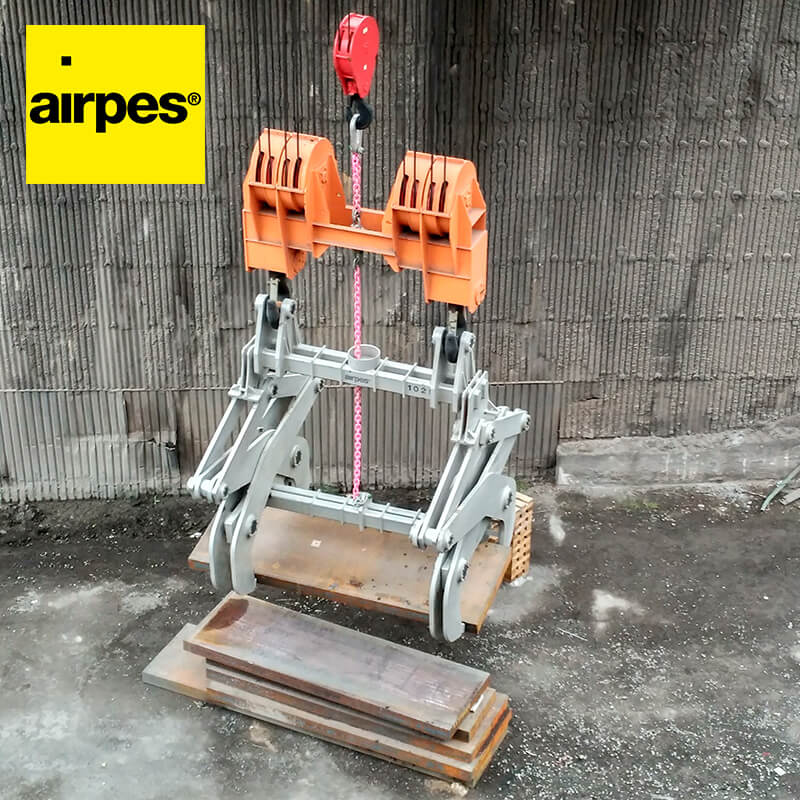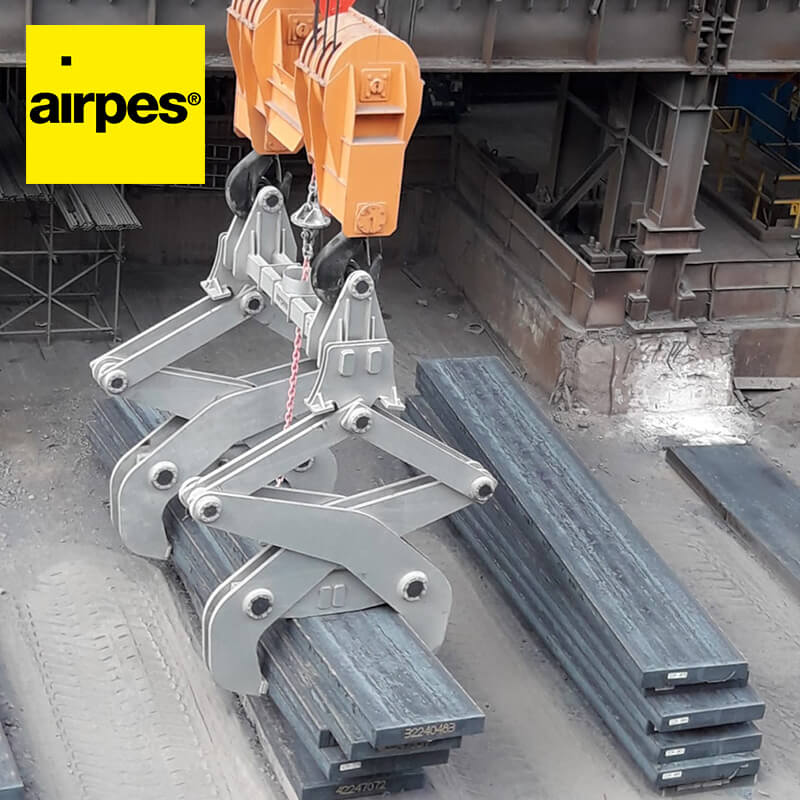 High lifting capacity
The main difference of this of this scissor lifting tong with other more standard types is the capacity of the machine, that allows to lift bars and metal slabs weighing up to 102 Tons. The customer already had a powerful crane that allowed to push the limits in the design.
Big aperture
The maximum aperture of this scissor lifting tong is more than 2 meters, exactly 215 centimeters, and that allows the customer to lift and handle a big number of different slabs and bars with many different diameters and sizes. This increases the productivity allowing to handle everything with a single tool.
Extra features we can add to any scissor lifting tong
Remeber that any scissor lifting tong designed by us can be upgraded with different tools that will add extra features to the original system. Let's have a look at some of these extra features.
Weighing capacity
Scissor lifting tongs can be equipped with mechanisms that will allow you to weight the load at the same time you are moving it. That's a really efficient way of doing two thing at the same time and improve timings and productivity.
Other features
Your scissor lifting tong can be equipped with a wide range of extra features that will make your device even more capable and safer: rotation capacity so you can rotate the load in the vertical axis, special painting for hot rooms, protection pads for collisions or a soft grabs, loose cable control… Just ask us what you need.
Stock control
Through the installation of a sensor and a bar code reader the machine can control what items enter and exit your warehouse for an automatic and effective control of the stock. It will send the info through a wireless system to a computer or other ERP.
Radiocontrol
Controlling the scissor lifting tong through radio is critical for some companies, for example in the siderurgical sector: the high temperature of the hot bars doesn't allow to install a cabin for the operator and the system must be controlled from the distance.
More information about our scissor lifting tong designs:
You can check the description of the scissor lifting tongs inside the product page for more information about what we can make for you.