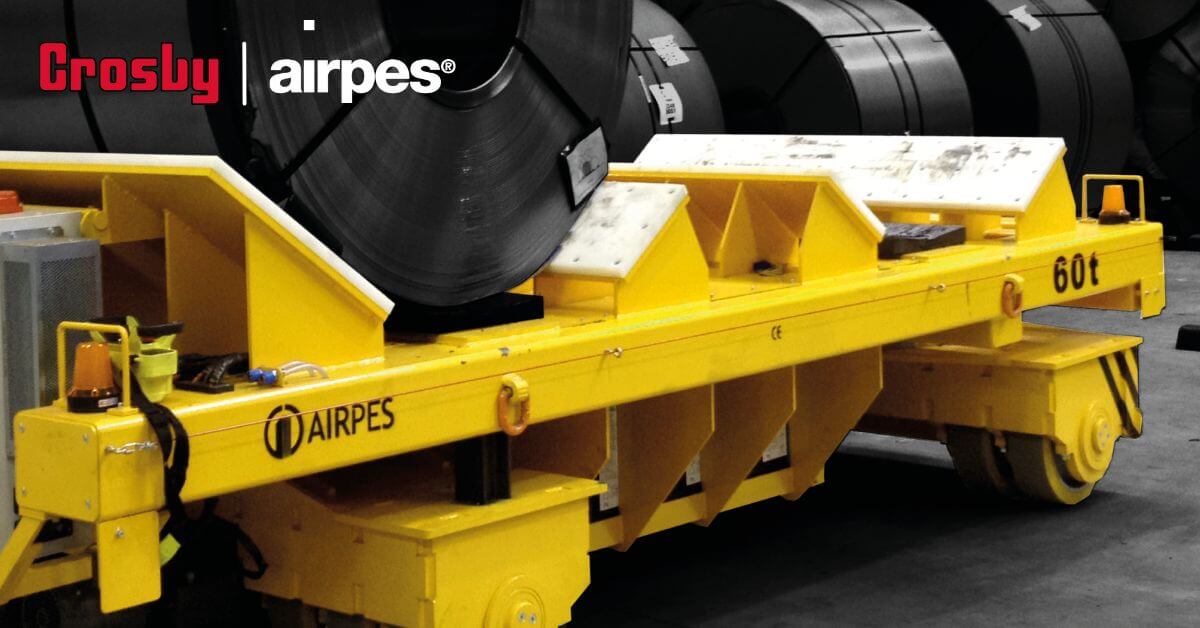 Coil transfercars are mobile platforms for the transport of coils of any type, weight and size.
A coil transfercar is used for the transport of large coils, especially when they need to be transported from a section of the factory to another with all the safety.
This prevents the coil from becoming damaged, and it also reduces the risk of injuries to workers who are handling the coil or damage to infrastructure of the company or its premises.
Types of transfercars for coils
When it comes to choosing the best coil transfercar system for a given job, the first step is to figure out the specific requirements of the job and the materials you'll be working with.
Once you know what you're looking for, you'll be able to narrow down your search to the best possible coil transfercar for the job.
There are two main types of coil transfercars: on rails or wheeled transfercars.
Each type of transfercar has its own advantages and disadvantages, but which one is best for you depends on the specific needs of your project.
Transfercar on rails
When it comes to energy efficiency, transfercar on rails are really efficient on energy consumption and allow to transport very high loads with a lot of security.
Transfercar on rails have the efficiency of rail freight transport but are adapted to the needs of your company and with all the security systems you may need.
Their modular design allows for easy customization, making them perfect for any type of transportation needs. In addition, coil transfercars on rails have a low center of gravity and are extremely durable, making them a durable and dependable option for transporting high-value cargo.
Finally, they have a very long life-span and long time periods between mechanical checkings, so if rails can be installed in the premises, transfercars on rails are a great fit for companies looking to minimize operational costs in the long term and reduce their impact on the environment.
Transfercar on wheels
Rail transfercars are efficient, but they can be cumbersome and difficult to move, since the liberty of movement they offer is limited to the rail installation they have. They are also usually only used for large, heavy loads.
In contrast, wheeled transfercars are much more flexible and can be used for transporting smaller loads to virtually any part of the factory or premises from the company, so they are more flexible in that aspect.
They are also equipped with the most advanced security systems to protect against collisions.
In some cases, wheeled transfercars can even be used to move to only coils but any kind of equipment between buildings: they simply roll along floors in a stable and slow pace, making them more versatile and flexible than rail transfercars ever were.
Additional systems for your transfercar
In Crosby Airpes we are specialized in the design and manufacturing of many different types of weighing and lifting systems, and that includes also transfercars.
Our transfercars can be equipped with many different extra systems so you can have the exact product that will adapt to your needs or those of your company.
Check our complete catalog of services here:
Remote control
All of the Airpes' electromechanical and electro-hydraulic equipment has a remote-controlled function for verifying machine status, so that includes also the transfercars.
Also our remote control systems will allow you to operate your transfercar from the distance to avoid human interaction with the machine while on operation, reducing substantially the personal damages in case of accidents.
Certifications of old systems
If you have a old coil transfercar that needs to be renewed you do not need to invest on a completely new one: Crosby Airpes can make all the changes in the machinery and security systems so it is completely certified with the most modern security standards for your industry.
We already make ISO Certifications for cranes, so it means we can do the same with your old (but still operational) coil transfercar.
Additional systems you may need to handle coils
Some of the lifting systems that usually work together with coil transfercars (and we also can help you installing them) are the following.
Take a look at some of the other transfercars projects we have installed around the world:
COIL LIFTING TONGS

Check out our vertical coil tongs, designed by our engineers to meet every customers' requests on mechanical features, electronic components,…

COIL LIFTING TONGS

September 22, 2020
TRANSFER CART

At Airpes we design our own high-tech transfer carts for any kind of industrial facilities. We can manufacture every transfer…

TRANSFER CART

September 22, 2020
PAPER COIL TONG

Handling big amounts of paper can be difficult. If you need to move paper rolls up to 5 tons, this…

PAPER COIL TONG

November 26, 2020
We can help you designing the coil transfercar you need
Contact us if you need a coil transfercar, our team is here to help.