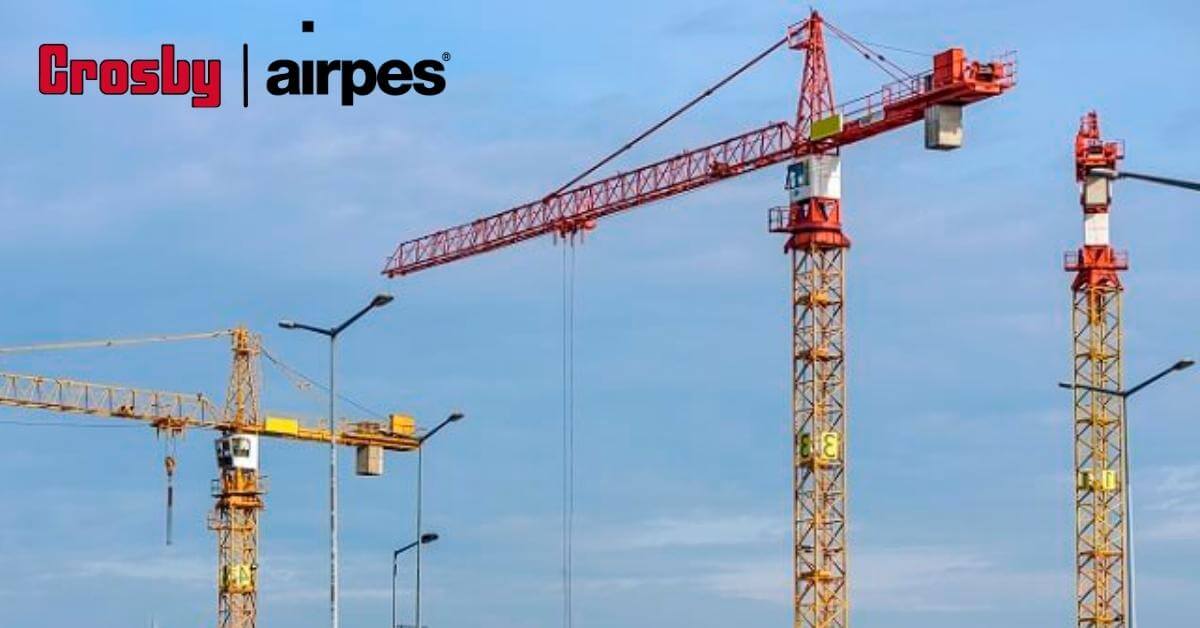 ISOs certifications are much more than an emblem. They serve as a proof of quality for a specific product or service. In this post we are going to talk about ISO crane classification and types of ISOS for cranes.
What is a ISO?
The acronym ISO stands for International Organization for Standardization and the certifications that include it serves to prove the quality of your processes, services, and products, as well as to verify the quality of your suppliers.
Every company that wishes to offer or acquire reliable solutions relies on them. To achieve certification, the company must follow the requirements of the standard that applies to obtain it. Although indeed, you are not obliged to acquire one, the benefits they provide are always convenient.
There are a wide variety of ISO standards. In this post, we will see those that apply in cranes to make them much better in their design and manufacture, providing security to both the operator and whoever hires and/or acquires the service.
---
How can a ISO for your crane or lifting system help your company?
The importance of having a wide range of modern and current standards enables crane manufacturers:
Regulated manufacturing. Allows you to carry out your design and manufacturing operations of these lifting machines in a regulated manner and aligned to the current technology demanded by the market, both nationally and internationally.
Safe operations. Moving loads has been a delicate issue for these companies since any failure that may occur affects the safety of both operators and those around them. For this reason, it is indispensable to protect workers and prevent accidents derived from the use of this equipment.
Test regulation. Rules of this type allow regulating tests during the installation, maintenance, and use of this equipment and promote the proper training required by the operators of this type of equipment.
Guaranteed quality. By being duly supported, crane manufacturers will carry out their operations under a quality management system covered by an organization such as ISO, guaranteeing their customers the quality of their equipment and maximum efficiency.
Standardized processes. Being certified under ISO standards and following EU regulations, loading, weighing, maintenance, mobilization, operator safety are standardized. Generally, these may vary from company to company.
Cost reduction. Operating under standardization necessarily gives your company cost reduction without sacrificing the quality of what you offer.
International recognition. Credibility is a necessary value for promoting yourself in the international business environment, so adhering to these standards will accredit you, and you will surely be trustworthy.
Customer satisfaction. All the benefits described above have a proportional impact on guaranteeing customer satisfaction, which gives you a competitive advantage over existing rivals. Equipment manufactured under these standards offers confidence.
Aside to help other companies get certified, we are ourselves a certified company at the level of environmental and quality standards.
Crosby Airpes is a ISO certified company: check our Certifications ISO 14001 & 9001 obtained by Crosby Airpes
---
What is the ISO crane classification and standards in force?
ISO are an international standard, so they apply the same rules and have the same code in every country in the world.
ISOs in Spain: how are they managed?
In the case of Spain, the standards in force are perfectly aligned with what is required at European level. For this purpose, there is a technical committee called CEN/TC 147, attached to CEN (European Committee for Standardization in Spanish).
ISO standards are drafted by the Technical Committee ISO/TC 96, all this is given thanks to the Spanish Association for Standardization and Certification (AENOR).
AENOR operates through committees. In the case of cranes, we will find those associated with "Lifting and transport machinery" developed by the committee AEN/CTN 58, responsible for the adoption of European and international standards focused on these aspects.
The AEN/CTN 58 is subdivided into different subcommittees that deal with each type of machinery in a very particular and personalized way with its legislation. Thus SC1 is in charge of dealing with "Heavy Lifting Equipment (Cranes)".
Accordingly, all crane and related machinery manufacturers in Spain are kept informed by ANMOPYC. The latter are members of the Spanish Association of Standardization (UNE), which allows them to stay abreast of developments in technical standards.
ISOs in the US: who manages them?
In the case of the USA, ISOs are granted both by specialized private companies and by the national organization ANSI (American National Standards Institute).
It is a non-profit organization that oversees the development of standards for products, services, processes, and systems and is a member of the International Organization for Standardization (ISO) and the International Electrotechnical Commission (IEC).
---
ISO standards examples for cranes
If you review the current legislation, you will find that there are about 141 standards that apply, showing a relatively broad field of application, where they are regulated from heavy lifting equipment, such as cranes, to series lifting equipment, such as hoists and accessories.
| | |
| --- | --- |
| STANDARD | DESCRIPTION |
| ISO 13001 | Cranes. General design requirements. |
| ISO 12929 | Safety requirements for cable transport installations intended for people. General requirements. |
| ISO 3691 | Handling forklifts. Safety requirements and verification. |
| ISO 13411 | Terminals for steel wire ropes. Safety. |
| ISO 1677 | Accessories for slings. Safety. |
---
Crosby Airpes and ISOs for cranes: get a ISO crane certification for your company
At Crosby Airpes we have extensive experience in obtaining certifications for old cranes or cranes that have not been used for a long time.
Do you have a crane that needs to be certified?
Conclusions
As you can see, ISO standards for cranes contribute to improving the way of working of any company; this implies adapting from the organizational philosophy to the systems and technologies used. 
This, in turn, allows providing reliability to customers, since the certified companies comply with the best practices at a national and international level. In this case, framed in the regulations of the European Union, which provides security and increased production, which can translate into an increase in the financial profitability of the company.
At Crosby Airpes, we meet your needs, that is why we offer innovative lifting machines designed and manufactured to satisfy your requirements, and if it is about safety and quality, our equipment offers it. We comply with the current national and European Union legislation, which all suppliers of this type of equipment must comply with, and with various ISO standards approved by TÜV (Technischer Überwachungs-Verein), a German certifying agency present worldwide. Contact us now!
Contact us for anything related with cranes and lifting systems
Crosby Airpes is here to help you with your crane and lifting systems at all levels. Contact us now.