At Airpes we design lifting, weighing and handling systems to optimize the work and ensure that it is done easily and safely.
As safety and crane experts, we attended the 26th edition of the AIST Crane Symposium from 2 to 4 June. An event that brought together professionals from the sector with the objective of dealing with topics related to the best practices to be carried out in crane maintenance work, electrical, mechanical and structural maintenance techniques; crane inspection technologies; and the most important practices in modernization of EOT cranes (electric overhead travelling crane), one of the most common types of bridge cranes.
Crane Inspection Program for Electric Overhead Traveling Crane (EOT)
With the aim of making EOT cranes safer, more reliable and more durable, our colleague Tad Dunville, Former Vice President of the Crane Certification Association of America, participated with his father, Larry Dunville, as a speaker at the AIST Crane Symposium giving a lecture on the inspections required when dealing with this type of lifting systems.
Handling a bridge crane is a very important task. For this reason, in order to save time and money, the operator must be extremely cautious and take into account basic safety rules.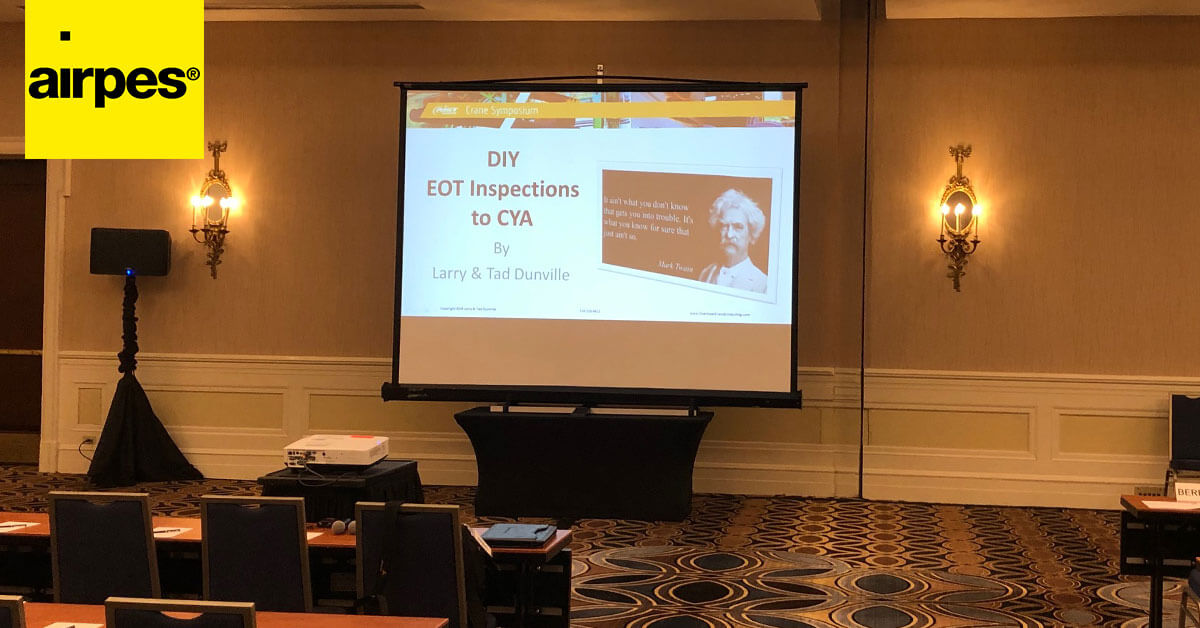 Discover also: The best equipment for your Travelling Crane
Throughout the conference, we discussed the main points for the development of a standards-based crane inspection program that we implement daily at Airpes as:
OSHA 5(a)(1): The General Obligations Clause of the U.S. Occupational Safety and Health Act, which ensures the safety of workers. This statement rules that:"Each employer shall provide to each of its employees a job and a place of employment that are free from recognized hazards that are causing or are likely to cause death or serious physical harm to its employees."In this sense, OSHA seeks to establish a safe working environment completely free from known hazards.
ISO 9000: The international set of standards on quality and quality management applicable to any type of company or activity intended for the production of goods and services, no matter which type, to make a defensive decision of the actions that will be carried out and minimize the potential risks that may exist, before the development of any plan.
Guidance for the safe use of lifting equipment
Once these issues have been taken into account, it is important to gather all the necessary information on which risks may exist, which equipment will be needed and to develop a specific inspection process.
It should be noted that, before taking action, there are certain trainings and tests to be carried out.
Inspection training is necessary to get to know the equipment safely and to discover how it is handled in different situations. To this end, 5 inspections are performed throughout the process:
Pre-shift inspection
Frequent inspections
Periodic inspections
Wire rope/Chain monthly inspections
Hook monthly inspections
Once all fields have been checked, training accreditation is required from vendors as well:
Crane inspection training
Monitoring the marked bases of fall protection
Implementation of LOTO (blocking and tagging) standards
Knowledge of hazards such as arc flashes and pertinent safety on aerial work platforms
Read also: 6 safety tips for working with overhead cranes
Airpes, lifting equipment and crane security experts
The use of these standards together with proper documentation, reasoned deliberation and good methodology ensures safe and efficient work when dealing with cranes.
At Airpes we carry out these best practices through crane inspection programs and we work hard to design, manufacture and test the equipment you need for your cranes in order to make your job easier.