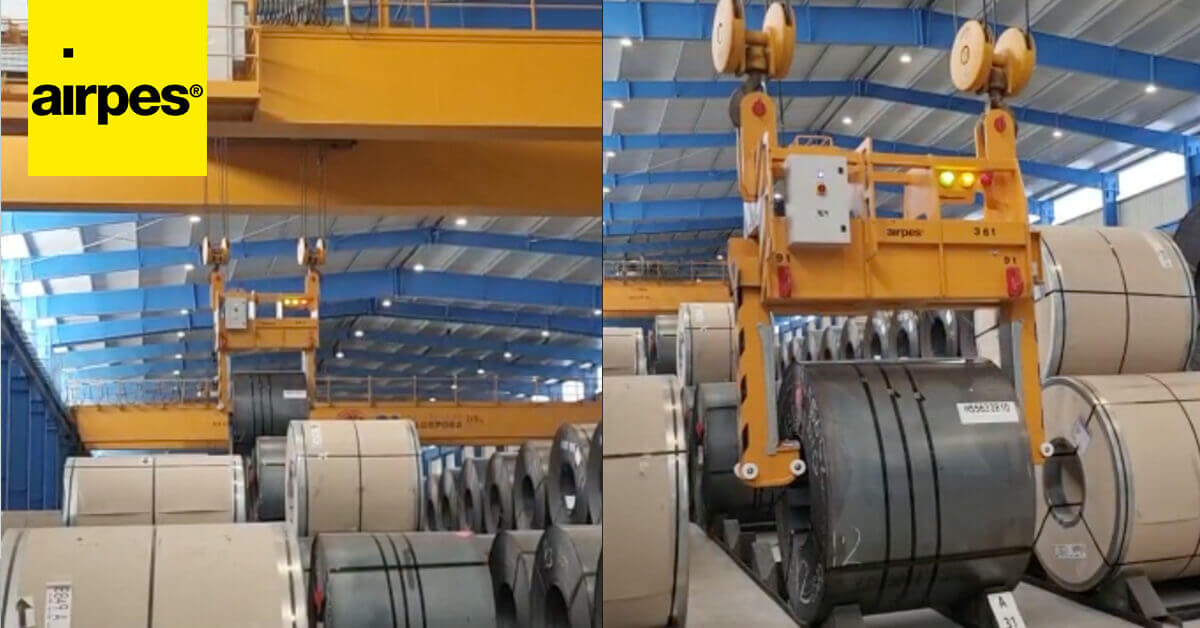 Algeposa Group is a comprehensive logistics operator with forty years of experience. Recently, Algeposa has expanded one of its warehouses in Pasaia (Guipuzcoa), and they have trusted Airpes for their new lifting equipment.
A new 36 t. coil lifting tong for Algeposa's warehouse
In their 40th anniversary, Algeposa Group has expanded its Wharehouse num. 4 in the Pasaia harbor. For the development of this new forwarding warehouse, we were commissioned to build a new coil lifting tong.
Airpes has designed, manufactured, and installed a coil lifting tong capable of lifting loads up to 36 tons. This lifting solution is already operational, and you can see it in action in the following video.
Airpes' coil lifting tongs
We design our vertical coil tongs following the highest safety standards. Our engineers can adapt their mechanical features and electronic components to the needs of any sector (steel industry, transportation, automobile or appliance industries, etc.).
You can add some of the following optional features to your coil lifting tong:
Rotating head/hook capacity
Optional weighing system
Load transmission to the crane, to a display, or a computer
Automatic working system
Remote operation options
Wi-Fi/Radio/Provirus
Foldable leg
Additional building materials for protection or high-temperature capacities
Horizontal rotation of the coils in motion
Would you like to have an Airpes coil tong?