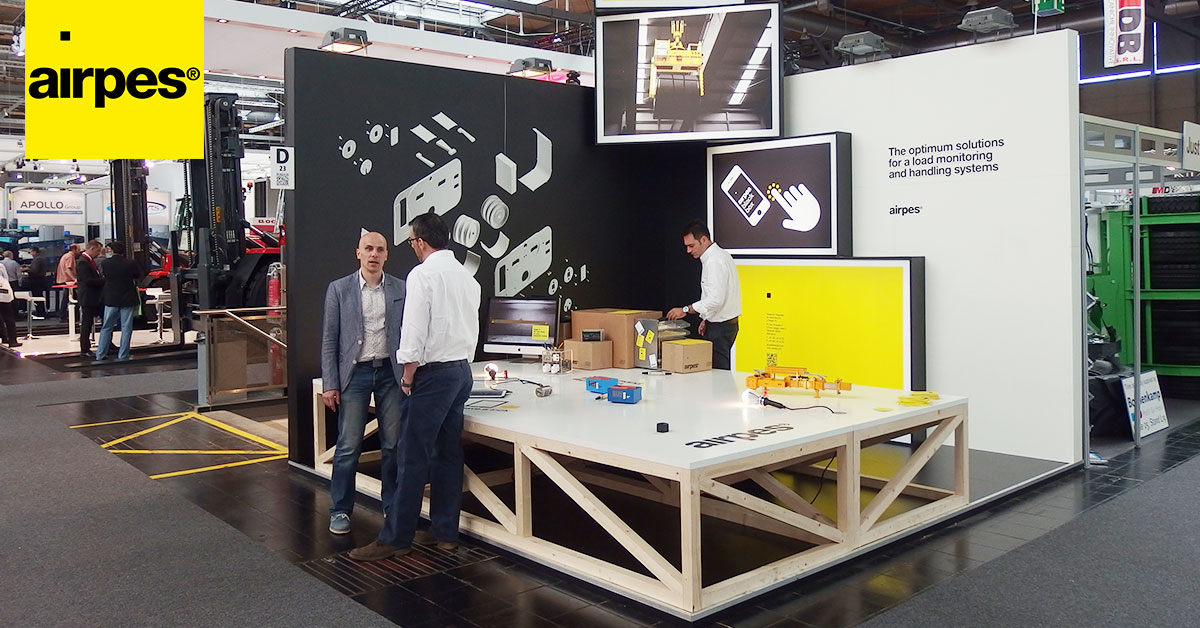 .
Airpes at CeMAT 2018: Hall 24 – Stand C56
Once again this year, Airpes is back again at CeMAT to present its latest innovations in cranes, lifting and weighing systems. The renowned Hannover trade fair is one of the most important and prestigious in the world in the material handling, logistics and intralogistics fields.
You will find us on April 23-27th in Hall 024 – Stand C56, dedicated to the handling, lifting and weighing sector. We will be happy to meet you, listen to you and find out if we can work together on your project.
.

CeMAT 2018, taking industry 4.0 to the next level
This year the weight of technology is once again visible at the material handling trade fair. Artificial intelligence, connectivity and machine learning are trends that are generating more and more interest over the years.
The autonomy of the lifting and weighing systems is important, although at the end of the day the worker is always the key figure who verifies the perfect operation of all the lifting equipment and provides safety to the project.
We will check the presentations, events and trends that will be discussed at CeMAT as well as present our lifting and weighing systems, our custom made solutions for all types of customers or our own test bench.
CeMAT 2018 Daily Programme
In addition to meeting all the exhibitors, CeMAT 2018 has prepared a series of events and activities for all its attendees, including conferences, live demonstrations and presentations of new trends in the field of digitalization and integration.
All the info you need about CeMAT 2018
Date: del 23 al 27 de abril de 2018
Opening Hours: 9:00 am to 6:00 pm
Venue: Hannover Exhibition Grounds – Messegelände, D-30521 Hannover (If you use a navigation system, enter "Hermesallee")
Organizer: Deutsche Messe AG
Discover our lifting and weighing solutions at CeMAT 2018
We look forward to seeing you at CeMAT 2018, in Hannover, Germany, from 23rd to 27th April. Come to our booth, we would like to meet you, exchange opinions and become your lifting equipment supplier to help you on your projects to work more efficiently, saving time and money and in the safest working conditions.