Find us at one of the key events in the wind sector
Meet Airpes from September 27-30 at Wind Energy, in Hamburg, Germany. We will be attending the event and we will showcase our products and solutions for the wind sector, like lifting equipment for turbine blades, nacelles or even transfer cars.
We will also be participating in meetings so if you want to know what we offer and tell us your company's needs, do not hesitate to ask.
Hamburg, the wind industry capital
This is another great opportunity to meet old friends, to make new ones and to showcase our services and solutions for the wind sector.
Hamburg will become, again, the gateway to the wind energy sector solutions. They will provide a comprehensive overview of the status of the wind sector, the challenges and future prospects. The main goal is to offer synergy for all parties included.
Besides the huge wind sector fair, Wind Energy also has a great conference programme, destined to analyze the sector and offer solutions to the challenges that everyone has to face.
Here is the map of the event. As soon as we have our exact location, we will update you with the information you need: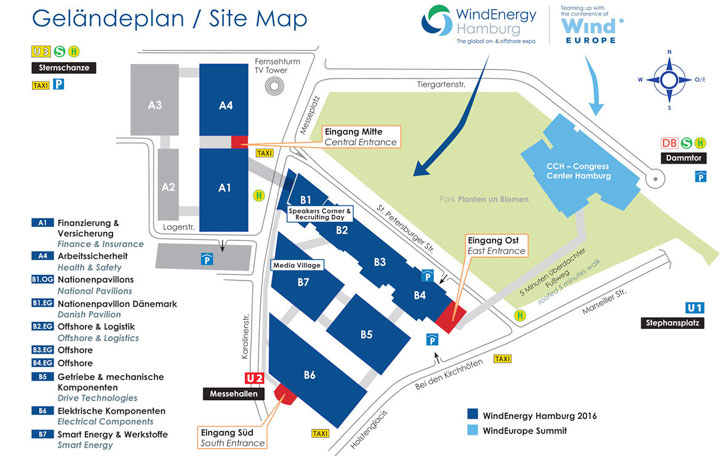 .
Airpes' wind sector products and solutions
At Airpes we know a lot about equipment for the wind sector. We have been working in it for years and we have lots of experience in designing solutions for them.
For instance, you can check our latest on demand solution, a lifting equipment designed for moving turbine blades, as well as our blade counterweight tool for Haliade 150.
We have also designed, manufactured and tested transfer cars for wind turbines and lifting equipment for nacelles in WTG Towers.
Our experience with lifting equipment in the wind sector makes our solutions fast and customized. Tell us your story and your need and we will come with a solution that fits them, assuring safety and efficiency.
Airpes, experts in wind industry on demand solutions
We are experts, so don't hesitate to request a quote, we will assist you and respond you as soon as possible with a solution to make your job easy and safe.
Come to Hamburg from September 27-30 and check all of our services in Wind Energy.