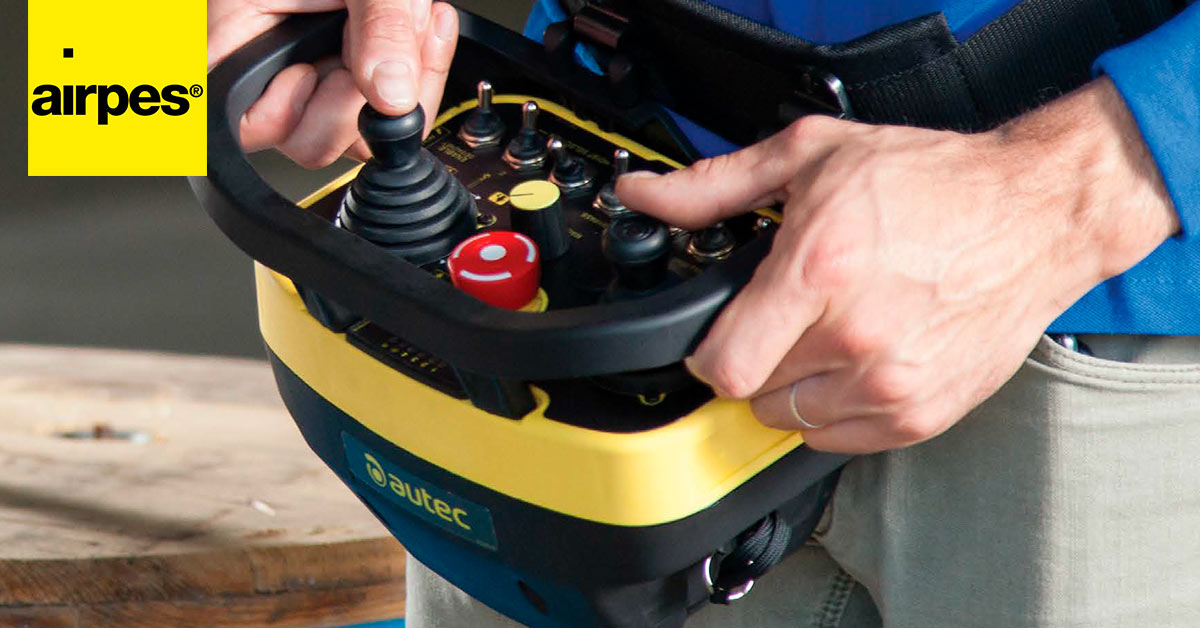 Airpes is an official Autec distributor since 2003 and we are glad to present you its new radio remote controls series: Dynamic+P. Autec designs and manufactures wireless control systems for safety applications in elevation and lifting, with an innovative design, robustness and reliability for the lifting of your loads.
Dynamic+P series of Autec's radio remote controls
Autec manufactures wireless control devices with safety functions used to remotely control self-propelled or fixed position operating machines in the construction, steel industries and maintenance and logistics in general.
Featuring the recognized reliability and safety of all Autec systems, the new Dynamic+P series has a lot of interesting new features:
Allows for pairing its transmitter and the receiver through a simple cable connection.
New Dynamic+P systems are delivered with their transmitters paired to their receivers univocally, without needed hardware code keys. These systems store their univocal address codes digitally inside their transmitting and receiving units.
Pairing replacement transmitting and/or receiving units is quick and simple, and can even be performed on site to reduce downtime.
Dynamic+P Series includes the transmitting units Compact, Link, Curve, PJR, PJM and PJB matched with the compact and sturdy CRP receiving unit.
Allows for transferring of transmitter and receiver diagnostics to the CAN line and can monitor any single actuator of the transmitting unit. Messages can be displayed on the radio remote control and/or on the machine operator panel; machines with network/telemetry communication can also transfer specific diagnostics information remotely.
Service operations are simplified and streamlined. The Dynamic+P series is available in dual band 870/915 MHz or 2.4 GHz frequencies.
Dynamic+P series, as Dynamic and Dynamic+ series, has been designed to meet the latest functional safety standards including EN ISO 13849-1 and IEC 62061.
Differences between Dynamic, Dynamic+ and Dynamic+P radio remote controls series
For direct current applications normally associated with hydraulic machinery used on work sites, in logistics and transportation, infrastructure maintenance and many other sectors, Autec offers radio remote controls with different features to meet specific requirements.
These are the features of Dynamic, Dynamic+ and Dynamic+P radio remote controls series of Autec.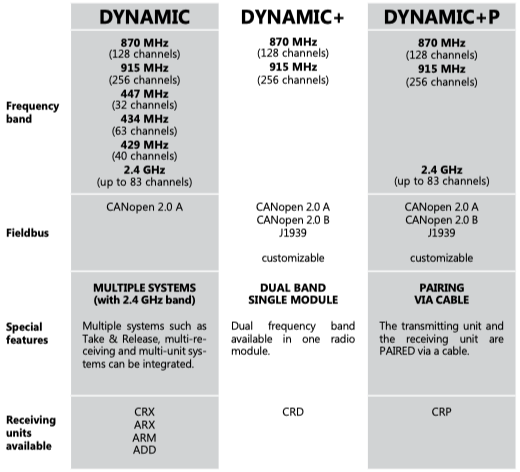 Radio remote controls applications in lifting and elevation equipment
You can use radio remote controls for many heavy lifting solutions:
Truck mounted and construction cranes
Factory automation
Construction and maintenance machinery
Elevating work platforms for the lifting of material and personnel
Machines and systems for logistics and manufacturing processes
You may be interested in: Industrial Crane Remote Control
Airpes is your Autec's radio remote controls supplier
Airpes delivers lifting and weighing solutions worldwide. Our partnership with Autec allows us to serve you their radio remote controls wherever you need them.