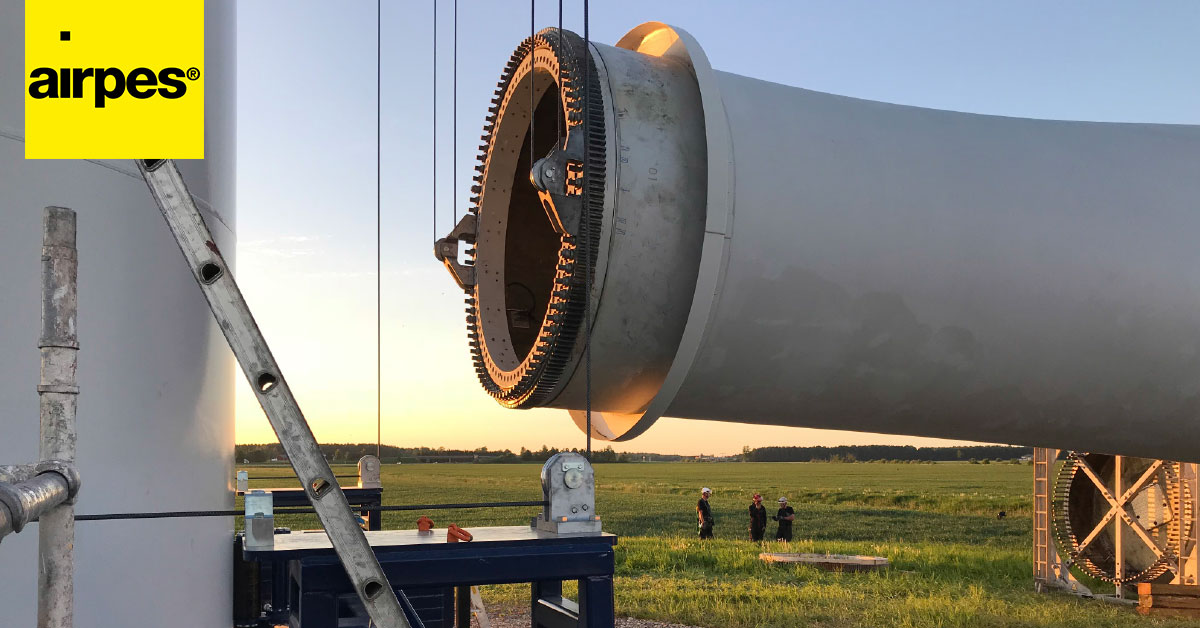 Craneless System to replace rotor blades on wind turbines
Since 2003 we have undertaken numerous projects onshore and offshore for the wind industry. Wind blades range from 40m to 60m in length and more than 16 tons in heigh. In addition to this, usually wind farm sites are usually located in places with high-speed winds, so an exchange or replacement of a rotor blade is not an easy task.
Our challenge was to develop an effective in cost and features Craneless Wind Turbine Rotor Blade Exchange System. The simple fact of replacing a blade usually entailed a big logistic investment in terms of equipment (a mobile crane capable of hoisting the weight to the required weights) and people involved.
We are presenting two options for the Craneless Wind Turbine Rotor Blade Exchange System. Our system avoids the use of large cranes and that fact makes those systems unbeatable in cost and efficiency to be used on higher platforms.
At Airpes, we are experts in handling, weighing and lifting. We have an strong focus on the Wind Turbine Industry.
In this video, you can see the whole exchange system operation live.
On the top of the tower there is a customized rigging, according to hub root blade characteristics.
Few meters away from the tower, there is the blade's System Control Orientation during the operation.
Our first Craneless System was delivered in 2014. We operate in the wind industry sector worlwide.
The Eagle electronic limiter is open to be adapted to new applications and tailor made solutions.
We offer each client a solution adapted to their particular needs:
• We sell a customized Craneless System and provide maintenance for the European, Asian, North and Latin American markets.
• We rent the Craneless system for the full operating. In the option of renting the entire operation is carried out with qualified operators. The team is certified to work on all platforms.
Why choose Airpes to replace your blade
SHIPPING
The tool is shipped in a open top 40 feet container.
TIMINGS
Replacing a single blade takes 1/2 days end to end.
SAVINGS
Operational cost is reduced around 50% compared to crane base operation.
DELIVERY
Optimal transportation availability to reach remote and isolated sites.
You may also be interested in