Get to know our hydraulic adjustable lifting beam
Today we want to talk to you about our hydraulic adjustable lifting beam with C.O.G. (Centre of Gravity) adjustable, used for lifting in a G9X Nacelle field at 80t maximum load, and how we adapt it to fulfill our needs.
This lifting beam has installed a hydraulic system that slides some casings on the structural profile that conform the device. This move let to level the load respect the axes "X" and "Y" to correct the off-centred of the centre of gravity that could exist in the Nacelle and consequently to level it respect the horizontal plane.
A remote control by radio-frequency is included with the hydraulic lifting beam. The levelling can be done maneuvering both axis ("X" axis and "Y" axis) together or independently.
The procedure to adapt the lifting beam
At the beginning, all the parts coloured in red have to be removed from the unit.
Also, due to the parts that are welded to the structure that have to be removed, it will have to be done with the cutting flame, and then the area must have to be healthy with a grinding tool.
Due to the sparks that will appear while this operation occur, the location has to be a free of volatile gas area for a radius of 10 meter minimum and has to be an airy zone.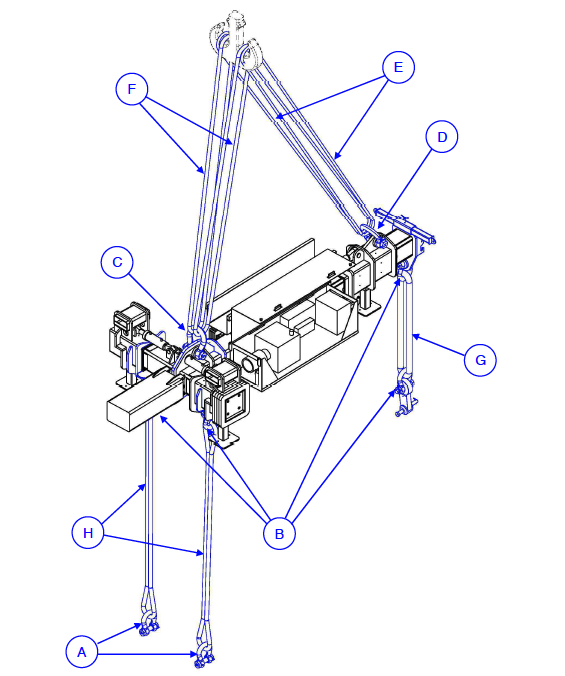 Then, all the components coloured in blue have been put in place to retrofit the hydraulic adjustable lifting beam up to be able to lift a G9X nacelle.
Discover Airpes' lifting beams
If you want more information on our lifting beams, do not miss our special page. If you need to consult anything, feel free to contact us. You can also request a quote so we can help you lifting your loads in the safest way possible.