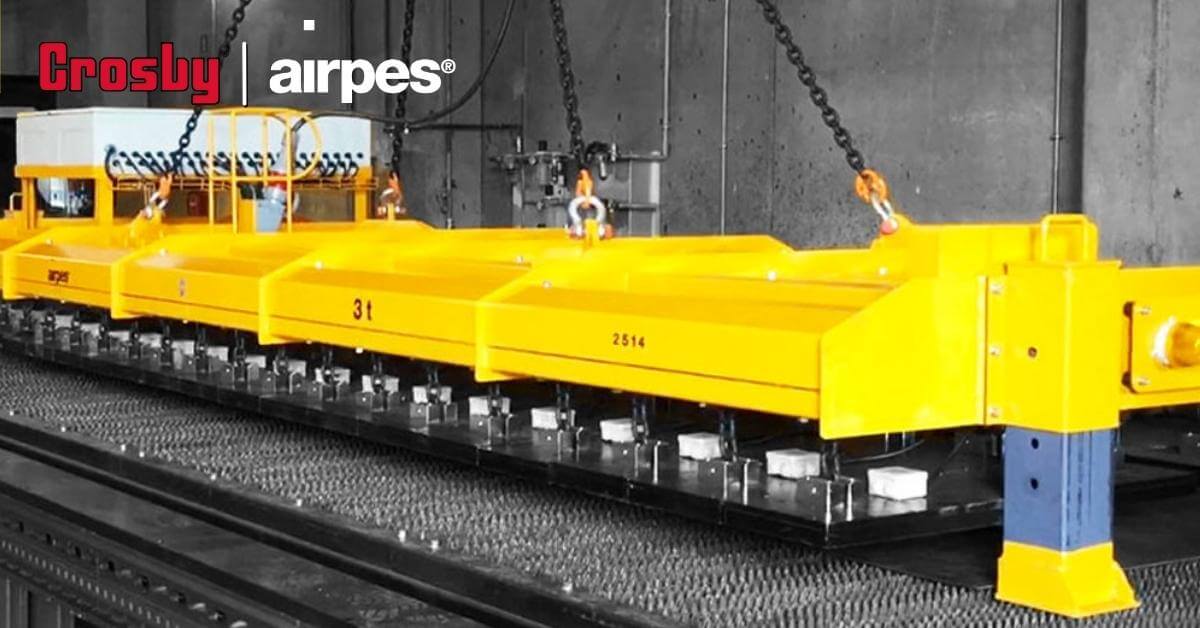 For almost twenty years, in Crosby Airpes, we have worked with many companies in the steel sector, and we have designed many handling, lifting, and weighing tools specially designed for this sector.
Working with coils, beams, pipes, or plates can be delicate. We know that dealing with a material such as steel entails certain situations that you must consider to carry out the projects safely for the workers.
Discover some essential safety tips for handling steel lifting devices in the steel sector that we have compiled for you.
7 essential safety tips in the steel sector
1. Plan and organize the operation with qualified personnel
All the professionals involved in each operation must be adequately qualified for the task and know all the information regarding the project: weights, cargo, transportation, etc. It's the only way to plan all the work with all guarantees.
2. Always inspect the accessories to be used
During the planning of every operation comes the inspection of the accessories and elements to be used. It goes from the lifting system or weighing equipment to the accessories such as displays or personal equipment.
3. Have adequate personal protective equipment
You must guarantee that your professionals are adequately equipped to protect themselves and avoid accidents at work.
4. Always carry the load of lifting equipment
At Crosby Airpes, as experts in lifting and weighing equipment, we know how important it is to meet load limits. They are there to secure the work and protect the workers, meaning that, although it may seem obvious, you never have to exceed the recommended load.
You may be interested in: Control the maximum load capacity with Crosby Airpes' weight limiters
5. Choosing the suitable chains to secure the load
Not only lifting systems must comply with the recommended safety measures. The chains to be used must follow the load classification recommended for the operation you will start.
6. Carefully discharge steel loads
When steel, especially pipes or coils, are discharged, the pins must be loosened slowly and not be removed until the element is secured and there is no displacement signal.
7. Correct storage of steel elements
Steel elements come in many different forms. Coils are circular, while plates can be very thin or even chipped. Depending on the type, it is essential to store them carefully and ensure their position.
Our steel lifting equipment solutions
Crosby Airpes offers you a wide range of steel lifting equipment solutions. We can design and manufacture equipment adapted to your needs.
Crosby Airpes helps you carry out your project in the steel sector
Contact us if you need lifting, handling, or weighing system. All Crosby Airpes products meet the strictest safety and quality standards of the European Union. Our design, manufacturing, and marketing processes are certified in ISO 14001:2015 and ISO 9001:2015 standards by the prestigious German organization TÜV.